The History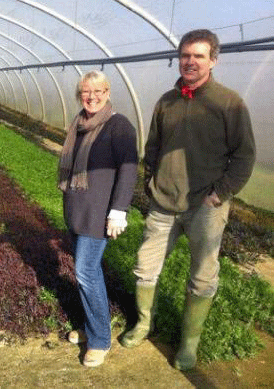 Cherry Tree Farm was a successful supplier of quality produce to top London Hotels and Restaurants, growing and sourcing produce such as Wild Roquette, and unusual herbs which were not readily available back in the mid 1980s until Matthew Luethi, then of Kingsgate Farm, decided to grow these wonderful leafs on his own farm in Kent. (reputedly, the first grower of Wild Roquette in this Country!)
The business was taken over in the late 1990s and continued for a few years, but soon fell by the wayside with tunnels and land becoming overgrown and produce being bought in from local farmers, and markets, essentially becoming 'a middle man' and growing very little on the farm.
Tina Barratt took over Cherry Tree Farm in 2006, with an enthusiasm to once again grow quality produce on the farm. But, not being from a farming or horticultural background, (management & accounts originally!) Tina had a steep learning curve in all things Salad & Herb!
Enjoying her 'new work' so much, and, showing an avid interest in reviving the farm land to grow its own produce, the farm was overhauled, and with the help of James Perkins, the farm was once again in operation.
James, formally a dairy farmer, decided in the year 2000, after too many early mornings of milking cows, that he wanted to have a lay in ocassionally (especially over the Christmas!) and so took to growing Flat Parsley and some Lettuce for a small farm in the neighbouring village, Cherry Tree Farm.
When Tina took over the farm, the renewed enthusiasm to grow and supply their own produce grew and was heavily reliant on the expertise of James Perkins. Tina, talking to the chefs and markets to find out what produce was required, and James ,growing and supplying wonderful produce for her to sell - it soon became a very mutually beneficial partnership. As Tina and James were now working so closely together, it seemed natural to combine their business skills, and so in 2010, Tina and James created Cherry Tree Farm Salad & Herbs Ltd.
With Tina continuing to talk to the chefs, run the office, and, find new varieties of salads etc. James using his expert skills in growing them, and a good team of reliable and dedicated staff, Cherry Tree Farm Salads & Herbs Ltd. grows all its own produce and continues to supply Top Rated London Hotels & Restaurants, along with local Caterers and Purveyors of Fine Foods.
The rest as they say ... is history!